Food, Football, Budget Hotel Stay and Shopping!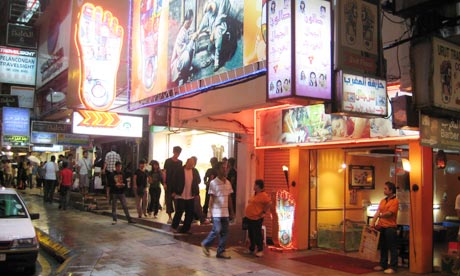 The national museum in the south of the city turns out to be small, and rather obsessed with tin-mining, the industry that put this place on the map. I take the flashy monorail back north, and spend the evening wandering through the hedonistic "golden triangle"; streets lined with trendy bars, restaurants and young women desperate to give me a foot massage….More at Fantastic food and football fans – my 48 hours in Kuala Lumpurt doesn't start well. The famous twin Petronas Towers, which gloriously lit up the night sky when I went to bed, are lost in heavy mist when I open the curtains. The rain is hammering down on to the streets below. I take a taxi west through the monsoon to Merdeka Square, the city's old colonial heart, and damply contemplate the waterlogged patch of grass where the British rulers played cricket, and the independent Malaysian flag was first raised in 1957.
The rain stops; I dry out and plunge into nearby Chinatown, a few blocks of fabulous, run-down colonial buildings cowering among the skyscrapers. The hawkers are in full flow ("Hey, boss, DVDs? Hollywood? Maybe you want something saucy? Boom boom!"). The locals are eating lunch in makeshift kitchens down grungy back alleys. I join them and watch a woman engage in an extraordinary symphony of fish and noodles plunged into pots bubbling with fat. It tastes unbelievable. The bill? 60p (80p with a drink)….More at Fantastic food and football fans – my 48 hours in Kuala Lumpur
Football Time!
The match last night between England and Ukraine show us the lack of technology's implementation in the Football. Although it is known as one of the most famous sport in the world with billion dollars generated from the ……More at Football need technology | Blogger in KL
Shopping Mall Malaysia